2020 >
Signal Processing Techniques in Condition Monitoring and Control of Power Electronics Converters and Battery System
Maher Al-Greer - Watch Now - Duration: 38:31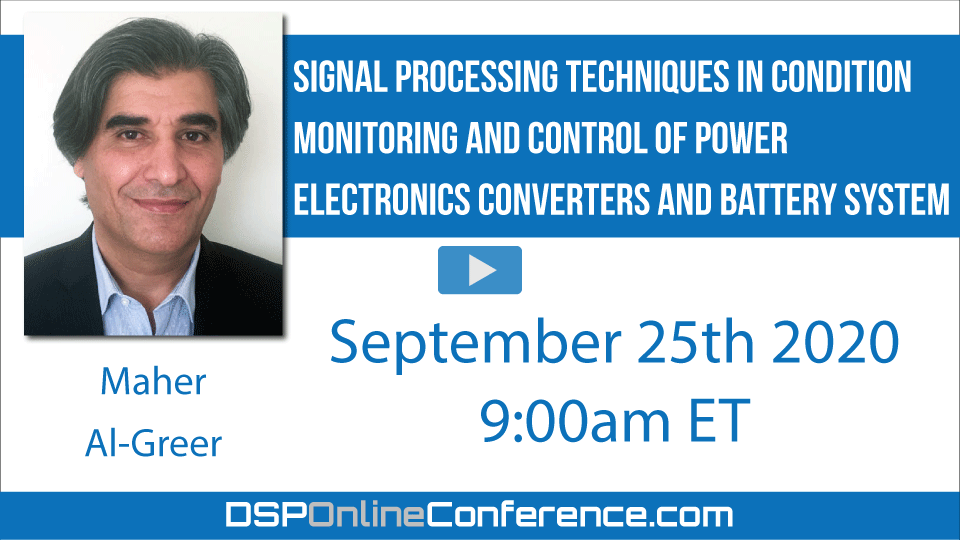 There are several fundamental challenges in condition monitoring, fault detection, and control of power electronics converters and Li-Ion batteries. These are linked to the computation complexity of the signal processing algorithms, suitability for on-line and real-time implementation, cost of implementation, ability to deal with rapid real-time changes, etc.
Advanced signal processing algorithms have been found to provide superior condition monitoring, system identification, and state estimation solutions to tackle the aforementioned issues with fast dynamic performance, cost-effective solution, high accuracy prediction, good tracking ability to system changes.
This talk offers basic theory and some recent advances of innovative signal processing algorithms for condition monitoring and control of power converters and batteries. The talk covers different system identification and parameter estimation of power converters, adaptive signal processing algorithms for on-line modelling and estimation of power converters, parametric/ non-parametric system identification, remaining useful prediction, and sate of health estimation of Lithium-Ion batteries. This talk is intended for researchers and engineers in the area of signal processing and artificial intelligence to explore new applications of signal processing algorithms in power electronics applications and battery management systems, and for postgraduate students in these fields.
Leonard
Score:
0
| 2 years ago |
1 reply
Score:
0
| 2 years ago | no reply
Leonard
Score:
0
| 2 years ago |
1 reply
Score:
0
| 2 years ago | no reply
Leonard
Score:
0
| 2 years ago |
1 reply
Score:
0
| 2 years ago | no reply
Leonard
Score:
0
| 2 years ago |
1 reply
Score:
0
| 2 years ago | no reply